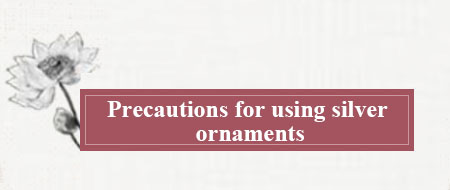 1. Although the products with platinum plating technology have bright luster, after long-term use, the precious metal on the surface will be worn and the background color will be exposed. If the products may turn yellow and black when exposed to chemical substances, their plating will also be corroded by some people's body fluid.
2. Women necklaces produced by Silvermaster are mostly slender types, which are formed at one time, and only welded at two joints. In order to make the products beautiful, the chain is small and dedicated, so it shall be noted that big and heavy pendants are recommended not to be used with these necklaces.
3. In view of the above common problems, you are recommended not to wear silver ornaments when traveling, bathing, resting and making up, because the service life of silver ornaments will be affected and oxidation will be accelerated in these activities.
4. How to wear bracelet: Wear the bracelet from the narrow side of the wrist first, and then rotate it to the normal position around the wrist. Do not force the bracelet apart, otherwise it may cause the stone on the bracelet surface to fall off or the bracelet itself to be deformed and broken.
5. Special attention shall be paid to silver ornaments with stones. These silver ornaments shall be better not to touch water, because there are gaps between mounting joint, and the stone is easy to fall off when exposed to water.
6. All silver ornaments are prohibited from contacting acid, alkali and strongly corrosive substances, including seawater and hot springs, which will seriously corrode the surface of silver ornaments, and cannot be repaired after sale.
7. If you encounter such problems in using, you may send the silver ornaments to the counter of Silvermaster, and we will serve you better.